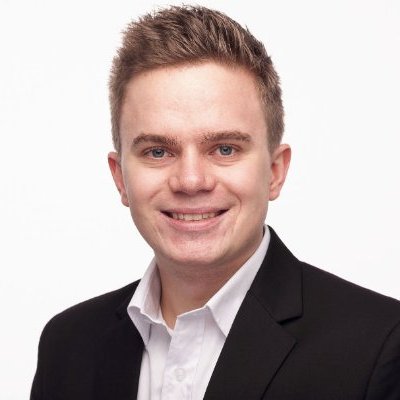 Tobias Klamt
Mechanical Engineering B.Sc. at RWTH Aachen UniversityAutomotive Engineering M.Sc. at RWTH Aachen UniversityMember of research staff in the Autonomous Intelligent Systems Group
Address:
Rheinische Friedrich-Wilhelms-Universität Bonn
Institut für Informatik VI
Endenicher Allee 19 A
53115 Bonn
Tel: +49 (0) 228 73-54160
Email: klamt _at_ ais.uni-bonn.de
Office: 0.051
Publications
2018
Tobias Klamt and Sven Behnke:
Planning Hybrid Driving-Stepping Locomotion on Multiple Levels of Abstraction
Accepted for IEEE International Conference on Robotics and Automation (ICRA), Brisbane, Australia, May 2018.
[Video]
Max Schwarz, Marius Beul, David Droeschel, Tobias Klamt, Christian Lenz, Dmytro Pavlichenko, Tobias Rodehutskors, Michael Schreiber, Nikita Araslanov, Ivan Ivanov, Jan Razlaw, Sebastian Schüller, David Schwarz, Angeliki Topalidou-Kyniazopoulou, and Sven Behnke:
DRC Team NimbRo Rescue: Perception and Control for Centaur-like Mobile Manipulation Robot Momaro
Accepted for: The Darpa Robotics Challenge Finals: Humanoid Robots To The Rescue, Springer Tracts in Advanced Robotics (STAR), vol. 121, to appear 2018.
2017
Tobias Klamt and Sven Behnke:
Anytime Hybrid Driving-Stepping Locomotion Planning
In Proceedings of IEEE/RSJ International Conference on Intelligent Robots and Systems (IROS), Vancouver, Canada, September 2017.
Finalist for Best Paper Award on Safety Security and Rescue Robotics.
[Video]